Heat turns negative into positive in Game 2 – Greg Cote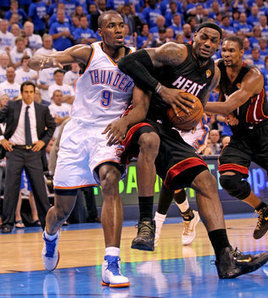 BY GREG COTE
OKLAHOMA CITY — America's Team is already taken, so it might be time to nominate the Heat as Adversity's Team. Probably a better fit, anyway, considering the way most of America feels about Miami — and the way this team is using negativity as a springboard in these playoffs.
Miami on Thursday night turned the NBA Finals back in its favor and gave itself a fighting chance to become the first team in league history to win a championship after trailing in (as LeBron James might put it) not one, not two, but three playoff series.
The Heat offset an opening loss here in a dramatic, hang-on-for-dear-life 100-96 Game 2 triumph over Oklahoma City to level the series heading back to Miami for three consecutive games starting Sunday night. The Finals segues now from the Thunder dome to the bedlam of Bayside with Heat hopes immeasurably higher than just two days earlier.
Miami could win its second franchise championship on the home wood with a sweep of the next three games, but, after the first two here, a bet on that likelihood might not be fiscally wise.
Miami frittered away as much as a 17-point lead to see OKC draw within three points with 1:47 left and within two in the final minute, but the Heat desperately held on.
Hey, anybody say this would be easy?
The Big 3 was just that for Miami as Chris Bosh started for the first time in exactly one month, after four games off the bench, and chipped in 16 points with a huge 15 rebounds. (Welcome back, Big Bird). LeBron was LeBron, with 32 points (though only six in the frantic fourth quarter). And a more aggressive (and accurate) Dwyane Wade rebounded from a poor Game 1 with 24 points.
The lesson here is that every result in a seven-game playoff series can refashion its entire context, turning gloom into glee or the opposite.
The greater lesson is that every time you are inclined to write off these Heaters they grab the pencil from you (the one with the big eraser) and take over the rewrite.
Something in this team's DNA triggers when it is discounted, mocked or lambasted — when the autopsy is started before the body is even cold.
Nobody plays better put-upon. No team more than this one can process anger or doubt into high-octane fuel.
"When our backs are against the wall," as James said, "we seem to respond. We enjoy that challenge."
Of course the entire narrative changes into one of collapse and calamity if Miami did NOT hang on, but that's the thing…
Continue reading on www.miamiherald.com
See on Scoop.it – Horn-y News