Crap you should read Monday (9/19)
Mayweather is a Sucker (Puncher):
Floyd Mayweather might have won Saturday night's fight against Victor Ortiz, but his image took a big hit. Floyd likes to blame everyone else for his poor image, but Saturday night his own actions solidified himself as Boxing's #1 bad guy. Sure the match was just a warm-up fight for the long awaited bout versus Manny Pacquiao, but the hugs, kisses and sucker-punches will surely be remembered for years to come.
In the 4th round, Ortiz let go a flurry of punches and that shook Mayweather for the first time all night. Ortiz got a little too hyped up and lunged at Money May with a headbutt reminiscent of Blanka from Street Fighter. The Ref stopped the fight and penalized Ortiz who quickly apologized for the unsportsman headbutt attempt. Ortiz might have realized that Mayweather handpicked him to make millions from the fight (don't bite the gloved hand that feeds) so he went above and beyond to show how sorry he was. Ortiz even went over to kiss Mayweather, as if that would make everything all-right in the testosterone-filled ring.
The Ref started things off again when the two fighters met mid-ring, and Ortiz went in for yet another sportsmanship hug. Mayweather seemed to oblige, but when Ortiz' arms were down at his side, Mayweather threw a devastating left hook at Ortiz. Stunned, Ortiz looked towards the Ref, but Money May pounced and clocked an un-guarded Ortiz for the 2nd time, and knocked him on his ass. Fight over.
Mayweather defended his cheap-shots by saying a fighter should "protect yourself at all times", but that's just not holding water to those calling this the suckiest of all sucker-punches. Floyd's asshole behavior was exacerbated when he started yelling at legendary HBO interviewer Larry Merchant who questioned the cheapshots:Â "You never give me a fair shake. HBO need to fire you. You don't know shit about boxing. You ain't shit! You're not shit!"
Merchant, 80, then shot back at Mayweather, "I wish I was 50 years younger and I'd kick your ass."
Street cred gained for one, lost for the other. Sucker.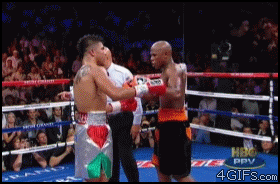 Russian Debates
Russia — Speaking of cheap-shots, check out how economic debates go down in Russia. Alexander Lebedev, a former KGB agent turned media-Billionaire, was debating real estate mogul Sergei Polonsky, when things got a little heatead.
Out of nowhere, Lebedev launched himself at Polonsky and started punching him in the head. Lebedev claimed he "neutralized" Polonsky because he was worried Polonsky would strike first. I'm not sure how this is believable considering Polonsky was calm and seated, but Lebedev owns Russian media and they say whatever the hell they want anyway.
For the record, how much cooler would the Debt Ceiling debate have been if…
Air Show Tragedy
Reno — A horrible disaster took place at the Reno Air Race this weekend when Jimmy Leeward, 74, lost control of his modified WWII plane during the race. Leeward managed to avoid the grandstands by going into a steep climb, but he couldn't do it a second time. The plane nosedived down into the crowd, crashed near the stands, and virtually disintegrated. 9 people were killed in the crash, and dozens more severely injured; 6 remain in critical condition.
The crash is currently blamed on modifications Leeward did to his plane, but surely the deaths have to be blamed on the fact that people were watching an air race to begin with.
Terrifying Video of Plane crash at Nevada Air Show
Weekend at Bernie's:
Denver — Two dolts, Robert Jeffrey Young, 43, and Mark Rubinson, 25, found their friend Jeffrey Jarrett, dead. Naturally they did what anyone would do for their boy in this situation…they took him out for a night of the town; and charged him for it.
The night started by taking Jarrett's corpse to Teddy T's Bar & Grill where they left Jarrett in the car and rang up a tab on his card. Then they stopped at another Mexican restaurant for more food and drinks. They eventually ended up at Shotgun Willy's Strip Club (where they took out another $400 on his card) to make sure they sent Jarrett onto the afterlife with some naked chicks on his mind. Rumor has it that Jarrett never objected to anything.
After 4am closing time at Shotgun Willy's, their consciences kicked in (so did the alcohol), and they flagged down a passing cop car to report the death. Young and Rubinson were promptly arrested for abusing a corpse, identity theft and criminal impersonation. I get the other charges, but "abusing" a corpse? Didn't they feed him and take him to see boobies?
Weekend at Bernie's Just Happened — Gizmodo.com
Bad Ass of the Day:
You'd think after 127 Hours, people would be more careful when roaming the natural mazes of Little Blue John Canyon in Utah. Â  You'd be wrong. Amos Richards took to the canyon without sharing his plans with anyone (a BIG hiking no-no). So when he fell 10 feet and broke his leg, he was screwed. Full of heart, and probably not wanting to die, Richards crawled across the Utah desert for 4 days trying to make it back to his car. He was armed with only 2 powerbars and 5 liters of water, but he certainly didn't have proper clothing to brave the harsh desert days and the rainy nights.
Fortunately Richard's campsite and vehicle were found abandoned, so a search party was sent out to find him. A helicopter spotted Richards on his fourth day and brought him back to safety. He'll make a full recovery, but you probably won't see his tale on the big screen because he didn't have to cut his leg off and he's not nearly as good looking as James Franco.
Amos Richards breaks leg, then survives 4 days crawl in Desert
What a Prick
A 14 year old Puerto Rican girl ran through her middle-school pricking other students with a syringe. By the time she was stopped, she pricked 37 other students. She claims it was just a big joke, but tests were performed to determine if  there were any diseases on the needle.
The girl was not charged, but she was kicked out of school. Its getting easier and easier to be an asshole these days.
Girl (14) attacks 37 classmates with syringe needle in Puerto Rico — FoxCrawl.com
She Loves Football
Maryland — Speaking of girls who ruin their schools, a Junior Varsity football game was cancelled after it was discovered that 6 of the players had sex with one female student. It was consensual, but it took place on school property. Apparently that's now against the rules?
Originally I thought they cancelled the game to throw the kids a parade, but I was mistaken. They frown upon this high-school gangbang thing in Maryland. The kids have been removed from the JV team, and might be expelled.
So we reward these kids for playing a violent game, but punish them for crossing off "gangbang" on their bucket list? That just seems unfair.
They won't be, but you should definitely have a Horn-y Monday.
Highschool football game cancelled because of gangbang
Follow The Ryno on Facebook and Twitter or email ryno@therynoshorn.com